Why am I on a trial subscription?
When you sign up for a Cookiebot CMP account you will automatically be enrolled in a 14-day trial.
During this time you have access to all features included in a Premium subscription.

Multiple domains
Full banner customization, including logo on the banner
Banner autotranslation for 47+ languages
Monthly Consent Analytics and Reporting
Multiple legal frameworks and geotargeting
Premium customer care and technical support
In the top left corner (next to the Cookiebot logo) you should be able to see how many days of the trial are left.
Even if you upgrade to a 'Premium subscription' during the free trial period, your Premium subscription will go into effect only after the full 14 days of the trial have passed.
What happens when the trial expires?
When domains are added to a Cookiebot CMP account they are immediately scanned. During the scan trackers are cataloged and the size of the domain is established in terms of number of pages.


Don't know the size of your website?
If you've only added a single domain with fewer than 50 pages, you will be given the option to convert to a Free account, or to continue on the Premium plan.
If don't want to loose any of the Premium features you should continue on the Premium plan.
If you select this option You will be asked to provide payment details.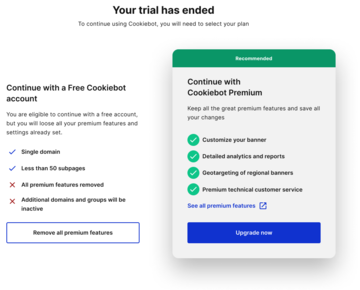 Free subscriptions have significantly fewer features than Premium accounts.
If you choose to continue on the Free plan, the Premium features you may have been using will be disabled

Custom color schemes for your banner and the Privacy Trigger are disabled
Only your default language is preserved, additional languages are removed
Only your first Domain Group is preserved, additional Domain Groups are removed
Only your first Domain is preserved, additional Domain are removed
Only your first Domain Group is preserved, additional Domain Groups are removed
Domain aliases are removed
Automated monthly scanning is disabled
You can upgrade to a Premium subscription at any time if you would like to add additional domains or would like access to the full functionality.
If you've added multiple domains, and/or your domain has more than 50 pages, it does not meet the criteria for a Free subscription.
If you have not done so already, you will be asked to add your payment details. The account will be suspended until payment details are added after the trial expires.
While the account is suspended the Cookiebot CMP scripts will stop working and no further scans will be performed.
When you log in to your Cookiebot CMP account, you will be redirected to the 'add payment information' page, which cannot be bypassed until payment details have been added.
Immediately after you have supplied payment details, everything will work again as normally.
You will be invoiced monthly in arrears by default, but you can also choose to pay yearly in advance instead.
Will I need to make changes to the scripts when the free trial ends?
You do not have to make any changes to the scripts when the trial period expires, regardless of whether you now have a Premium or a free subscription. 
The scripts will be disabled though, if you have not added payment details at the end of the trial. However, if/when you enter your payment details, the scripts will be reenabled.
Will my users be able to see that I use free trial?
It will not be visible to your users that you are on a free trial. This will not be noted on the cookie consent banner or anywhere else.