Welcome to our Getting Started Guide - the extended and detailed version. Below we will show you how to create an account, add domains and build your own cookie banners. Next, we will take you through the implementation process of adding the banner to your website, adding a few tips along the way on best practices and possibilities.
2.1. Domain groups and how to use them
2.2. Domains and domain aliases
3. Configure your cookie banner
3.3. Setting up regions for your banner
4. Adding the cookie banner and declaration to your website
5. The scan report: Check for unclassified cookies
1. Create an account
Creating an account is as easy as adding your email address + password, verifying the email address with the registration key: you now have an active account and are ready to create your cookie banners.
You can try Cookiebot CMP free for 30 days – or indefinitely if you have a small website.
All Cookiebot accounts start off as Free plans. If you have only 1 domain with fewer than 50 pages, you can stay on our
Free plan
for as long as you like. If you add multiple domains or your 1 domain has more than 50 pages, you will be on the
30-days-Trial plan
with a chance to test out Premium functionalities for free. Upgrading to
Premium
plan can be done by adding payment details (credit card or PayPal) to your account.
Don't know the size of your website?
2. Adding domains
Add your domains and subdomains in the appropriate domain groups (e.g. following your specified business areas). You can create as many domain groups as you like on your Premium account.

2.1. Domain groups and how to use them
If you would like the domains to 'behave' the same way, you should add them to the same 'domain group'. All the domains and subdomains in the same domain group share the same CookiebotIdentifier (CBID), which is the serial number that is included in the script. Each domain group has a unique CBID), use the same cookie consent banner template, the same logo, the same styling of the banner etc.
Also, it is possible to use 'Bulk Consent' for all the domains and subdomains within one domain group, to ensure that a website visitor is asked for a joint consent covering all the domains.
If you would like the domains to have different banners or styling, you can set up additional domain groups.
Please note that our subscriptions are per (sub)domain and this is not affected by the number of domain groups in use.
2.2. Domains and domain aliases
Once you have created the domain groups, you can add your (sub)domains. Remember to hit the "save" button after adding a new domain.
As soon as the domains are saved in the domain group, a new scan will start. The results of this scan should be in within 24 hours and will be available from your "Cookies" and "Reports" tabs. 
If you are on a Trial account, the scanner will only partially scan the website (up to 200 pages), which means not all cookies might be captured. On a Premium account, all domains are fully scanned up to 10.000 pages.
If you have any test websites, you can add these as "domain aliases" in the Cookiebot CMP Manager. Alias domains will not get billed.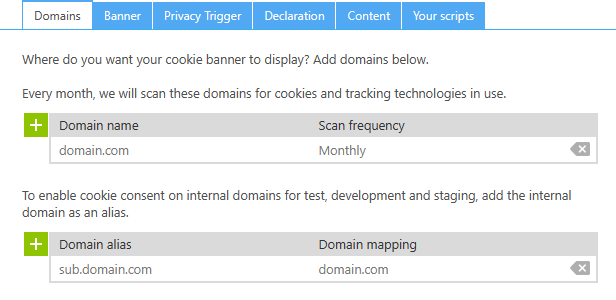 See also: Why does it say test on my banner?
3. Configure your Cookie banner
Create your perfect banner and make it fit effortlessly with your website design. Navigate to the "Settings" tab on your account and check out pages "Dialog", "Declaration" and "Content" in order to do so.
The default banner is configured with the strictest settings possible (suitable for cookie consent under GDPR and ePR), however you can edit the default banner so it fits your website and legal requirements. You can also use our GDPR checklist as a starting point towards compliance.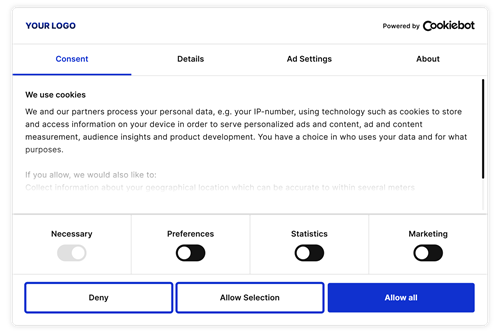 3.1. Styling
Use our build-in styling option to adjust colors to match your websites' color scheme and add your own logo. See these guides on styling the available Elemental banner templates or the Swift banner templates.
Use the 'preview' button to get a taste of what the current banner configuration will look like on your website.
3.2. Content and languages
The content and text of your banner is also highly customizable, although we do like to make it easy for you and provide a template text for 46 different languages. See more on adding different languages and editing the text templates for your banner.
Cookiebot CMP enables automatic language detection to show the banner in the individual website user's preferred language.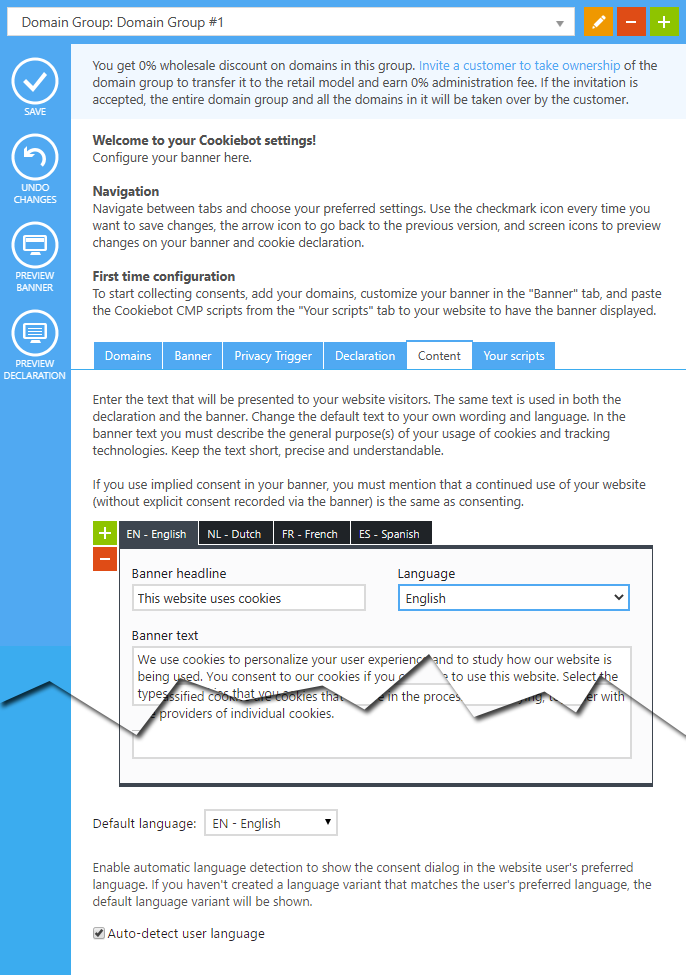 3.3. Setting up regions for your banner
In our Premium plan, you can easily select the territory for website visitors who will be shown the cookie consent banner and be asked for consent. Navigate to "Settings" > "Dialog" and scroll all the way down to "Distribution". From a dropdown menu you can choose to display the banner and ask consent from:
All visitors (default setting)
Visitors from the EU only
Visitors from specific countries and/or regions (Africa, Americas, Asia, Europe, Oceania). With the possibility to choose sub-regions as well as one or more individual countries under each region

3.4. User consent expiration
By default, Cookiebot will remember a users consent for 12 months. You can however choose any other value for this via your Cookiebot CMP Manager > Settings > Domains > scroll down to "user consent expiration" and choose any setting via the dropdown menu.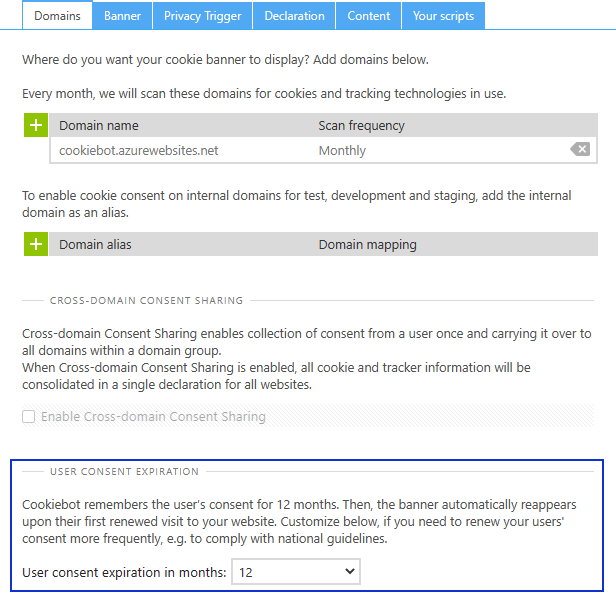 3.5. Your cookie declaration
The cookie declaration is a list of all cookies and other trackers on your website. Typically customers have this as a part of their cookie or privacy policy, but you are of course free to decide the placement of this on your website. The declaration also shows the user's current consent state and offers the user the statutory option of changing or withdrawing a consent.
Read more about the declaration and what this entails: Cookie Declaration.
4. Adding the Cookie banner and Declaration to your website
We offer several integrations such as a Wordpress plugin (follow this guide) and a Google Tag Manager template (follow this guide). See which other integrations we offer: installation guides.
No suitable integration available? No worries, we got you! Upon creating a domain group, the cookie banner and cookie declaration scripts are generated automatically and you can find these via your manager > "Settings" > "Your scripts".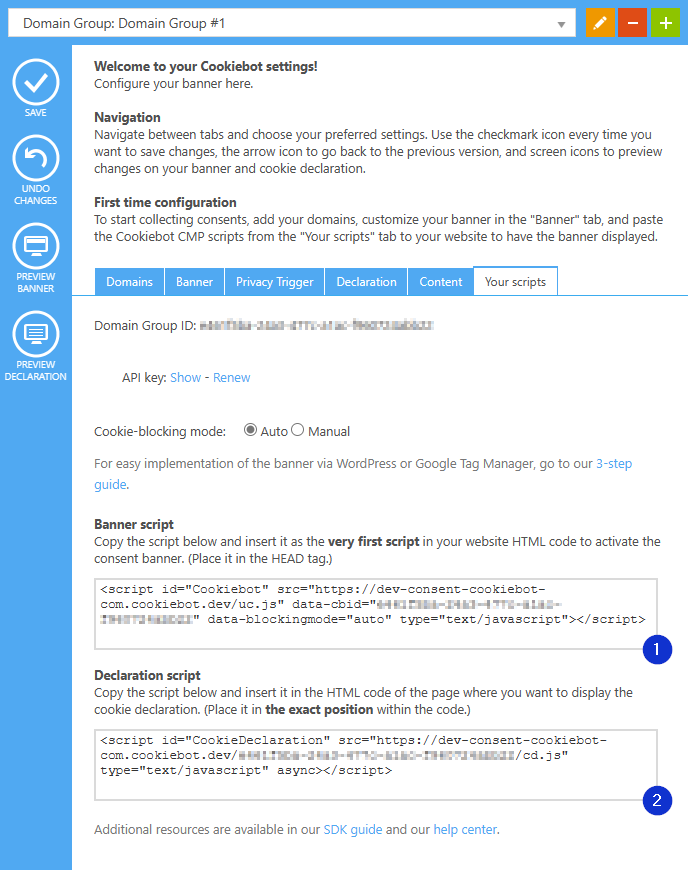 1. Cookie consent banner: Copy the top script and insert it as the very first script within the HEAD-tag of your website. Inserting it as the very first script ensures that no cookies or trackers escape our automatic cookie blocking.
2. Cookie Declaration: Copy the second script and insert it in the HTML on the specific page and at the exact position where you would like the Cookie Declaration to appear. This could be as a separate page on your website or embedded into an existing privacy policy. The standard Cookie Declaration lists all cookies and trackers discovered on your website and allows the user to withdraw (or change) a consent at any time – as required under e.g. GDPR.
5. The scan report: check for unclassified cookies
When the website scan is complete, check your scan report (via your manager > "Reports"). If there are any unclassified cookies, go to "Cookies" and make sure to classify them and add a short purpose description as described here: Check your unclassified cookies. This classification helps ensure that all cookies and trackers on your website (except for 'strictly necessary' cookies) will be blocked correctly. Only those categories of cookies the user has consented to will be activated upon consent – all other cookies will be held back automatically. 
If you are just getting started with Cookiebot CMP, you may also find these articles interesting;
Information on how we log user consent
Learn more about GDPR and consent
Learn more about CCPA compliance
Learn more about LGPD compliance