Select your interface: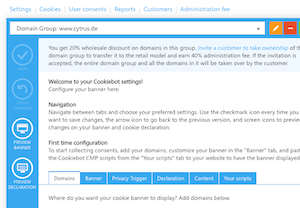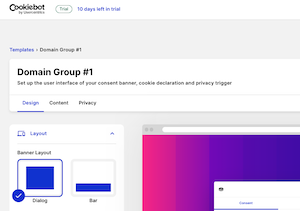 You are currently viewing instructions for the: Manager
Upon receiving your monthly scan report, we recommend to always check for unclassified cookies. These will be stated in the report as a separate category and will therefore be easily identifiable.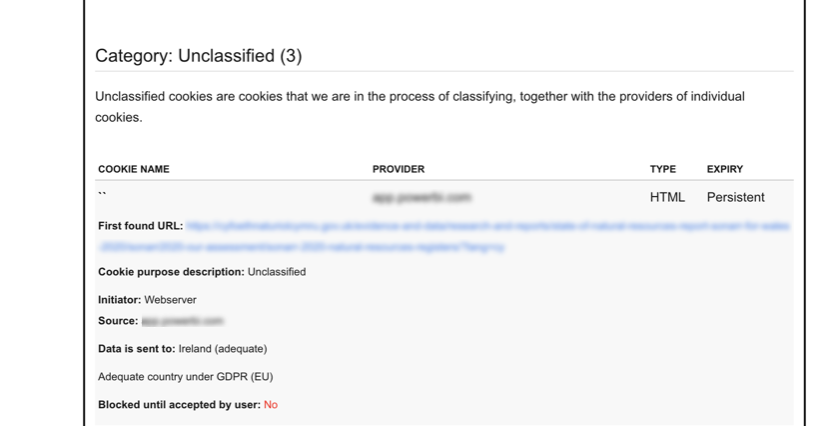 Unclassified cookies can not blocked.
Unclassified cookies have not been given a purpose description yet, which makes it impossible for your website visitors to provide informed consent.
In the context of GDPR compliance, all cookies except those strictly necessary to run the website, should be blocked until visitors has given consent. In order to ensure correct behavior and provide your users with full transparency, we urge you to update any unclassified cookies and make this a routine part of your recurring website maintenance. See What does 'prior consent' mean and how do I implement it?.
When using Automatic Cookie Blocking Mode, unclassified cookies will not be blocked automatically. This is to prevent the potential loss of functionality of the website. Unclassified cookies are merely a cookie of which the actual category is unknown and may be necessary.
Unclassified cookies will be blocked prior consent if they are set by an element that sets unclassified cookies and cookies in one (or several) of the following categories: "preferences", "statistics", or "marketing".
If the element exclusively sets unclassified cookies, or a combination of necessary and unclassified cookies, the element will not be blocked prior consent.
With the above exception, as a rule, unclassified cookies will not get blocked automatically and it is recommended to assign the appropriate category at your earliest convenience to ensure it will get handled correctly.
If you are using Manual Cookie Blocking Mode, do remember to classify all your unclassified cookies first and mark up the cookie setting scripts manually. See step 4 in the manual implementation guide: https://www.cookiebot.com/en/manual-implementation/
Why do I see unclassified cookies in the scan report?
If you see unclassified cookies in your scan report, it is because they are cookies and trackers that the Cookiebot scanner has identified on your website, but that are unknown to our cookie repository. We are constantly updating the cookie repository with additional cookies, classifications and purpose descriptions. However, since we need to reach out to third-party providers for this information and new cookies are created every day, the cookie repository is a constant work in progress.
How do I know what the unclassified cookies do?
You can manually classify the cookies and add the appropriate descriptions. In the scan report, you can see where in the source code the script setting the cookie is located - this will allow you to identify the unclassified cookies. If they are first-party cookies you may know what they do (and thereby the correct classification in 'strictly necessary', 'preferences', 'statistics' or 'marketing') and be able to add a purpose description in plain and easily understandable language. If you don't know it yourself, you can reach out to the web agency/developer who helped build your website. For third-party cookies you can reach out to the provider and seek information or try to search for information about that particular cookie.
If you have no idea what the purpose of an unclassified cookie is, then you can choose to mark it up as a marketing cookie - which is the most intrusive kind of cookie - just to be on the safe side.
How do I manually classify the cookies, then?
Log in to your account https://manage.cookiebot.com/goto/login
Go to the menu point 'Cookies' to see the cookies identified in the latest scan report (if you have multiple domains, select the relevant domain tab)
On each unclassified cookie, choose the correct category from the drop-down menu, add the purpose description to the text field (and repeat for the different languages in use, if you have multiple languages).
Save your settings (tick mark in the blue bar on the left-hand side)
The Cookiebot scanner will remember this in future scans.