This guide will take you through the steps needed to integrate Cookiebot with HubSpot by making use of the Cookiebot app. For this to work you will need a Cookiebot account as well as a HubSpot account. If you do not already have a Cookiebot account, click here to get started.
Adding the Cookiebot app to your Hubspot account is easy. You will find the app in the HubSpot App Marketplace. Click the Install App button to add it.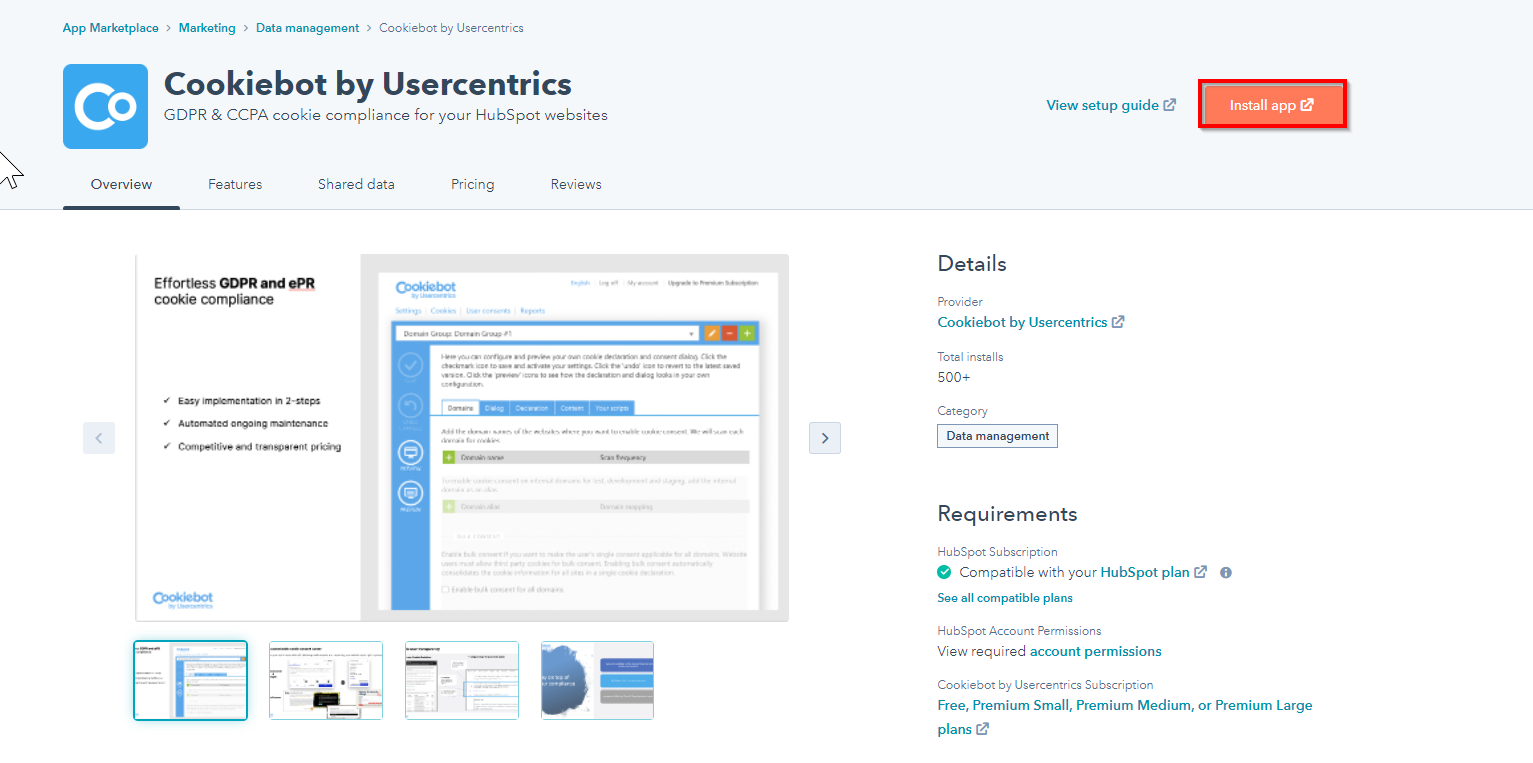 Login with your HubSpot account credentials if needed, and select the HubSpot account you want to integrate to. You will now be able to configure the integration. You will be redirected to the integration page. If it does not open click here.
Scroll down to the section: Cookiebot settings for HubSpot websites

Here you must choose the HubSpot website you wish to implement Cookiebot on, and pair it with the Domain Group ID from your Cookiebot account. This pairing with the Cookiebot Domain Group ID ensures that the HubSpot website uses the correct (and active) configuration from Cookiebot for the domain in question.
To fetch the Domain Group ID, log in to your Cookiebot account and select the Domain Group that you have configured for the domain in question. Then navigate to the Your scripts pane under Settings.

Copy the Domain Group ID value. Now return to the Cookiebot settings for HubSpot websites page and paste the ID into the settings for the corresponding website. Click the + button to add this configuration.
Now your Cookiebot consent service is integrated and will show on your HubSpot website.
As default, Cookiebot will be running in autoblocking mode, making sure that cookies are prevented from being set until appropriate consent has been submitted by your visitors. More info on autoblocking mode here.
Cookie declaration
To integrate the Cookiebot cookie declaration on your website to allow users to see the cookies in use on your website and manage their consent, please copy the cookie declaration script from your account (Make sure you get the right script! It's the bottom script found on the same page where you found your Domain Group ID). Insert this script on a page in your CMS where you want the cookie declaration to appear. This could typically be on a dedicated 'Cookie Policy' or 'Cookies' page linked to through the footer of your website.
Please note - Known issues:
When uninstalling the app through the Hubspot control panel you may experience that the cookie banner is still active on your site. The correct way to uninstall the solution and remove the banner, is to first delete integrations within the app, and then proceed to deleting the app. This is an inconvenience we are currently working to remove. See also the Hubspot guide on how to install/uninstall the Cookiebot integration.

If you are removing the app and re-adding it you may experience that it does not appear in the control panel. In that case you must close the browser and add the app again.
Questions?
Get in touch by writing us via the support form.