If you get an 'access denied' message when you try to access one of your retail customers' accounts, there can be 2 reasons.
Either it is because they have been on a free 1-month trial that has expired and they have not yet added payment information to continue a premium subscription. Or, because we no longer have valid payment information for them and their account has been temporarily suspended - for example if their credit card has been rejected and they have not yet added alternative payment information.
In both cases, we send out warning emails to the email address of the user's account. If the user ignores - or for some other reason does not read - those emails and takes action, the account will be temporarily suspended and the scripts will stop working on the customer's website(s). The customer should log in to their account and add payment information to reactivate the scripts and the account.
If the customer is on a free trial that has expired, this is what they will see when they log into their Cookiebot account - they should choose 'Change payment plan' to proceed to adding payment information and reactivate their account: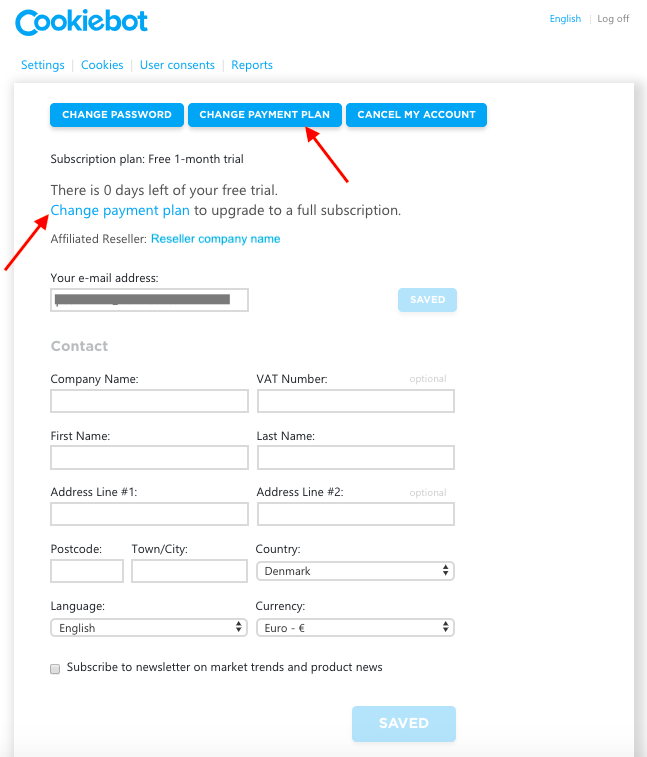 If you – or the customer – would like to know the subscription price for a domain that has been on a free trial, please order a free quote - this will tell you both the subscription price and the number of subpages on the website.
For more information about the 1-month free trial - and what happens when a customer opens a new account, adds a domain with more than 50 subpages and is automatically placed on a free trial - please see: What happens when my customer accepts my invitation (reseller retail model) and signs up for a Cookiebot account. What type of subscription will he sign up for? When will he get an invoice?