If you have correctly recommended Cookiebot to a customer then that customer should become a retail model customer under your reseller account (wholesale model customers do not sign up themselves and have no access to their own Cookiebot configurations. See Reseller introduction: How do I onboard customers under the 'retail' and the 'wholesale' model?)
If the customer has signed up to Cookiebot and does not appear on your reseller account under the menu point 'Customers', then most likely this is because the customer has not been invited using either your unique reseller link or the 'invite new customer' button on your reseller account (see point 2 in Reseller introduction: How do I onboard customers under the 'retail' and the 'wholesale' model?).
How can I solve this?
If this was an unintended mistake and if the customer was indeed interested in becoming a customer with you as the reseller, then you can do the following to move the customer to your reseller account:
Get your unique reseller link – found at the top of the menu point 'Customers' when you are logged in to your reseller account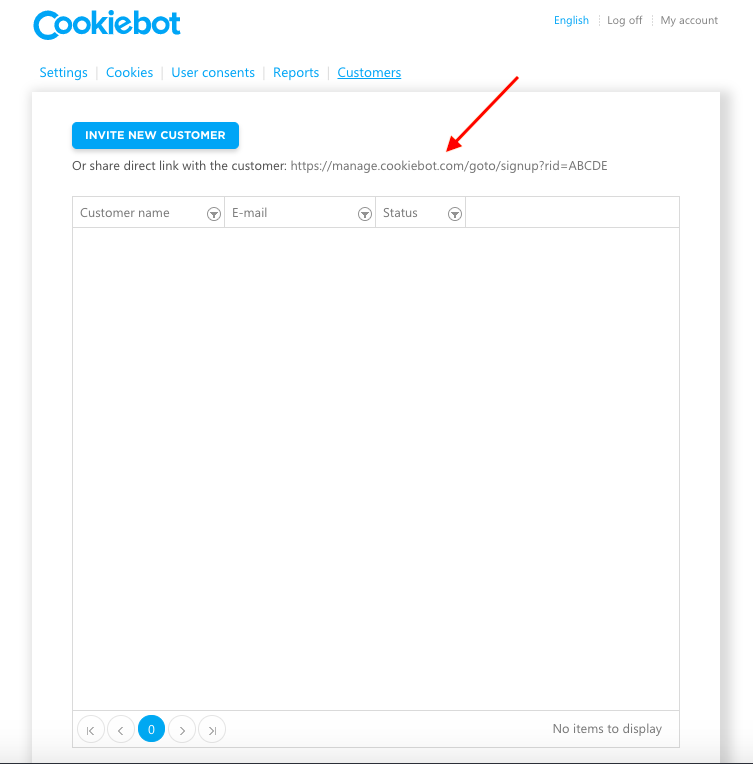 2. Provide the customer with this link
3. Important: please make sure to be logged out of all Cookiebot accounts in all browser windows before continuing.
4. The link is normally for creating a new Cookiebot account that will be automatically added to your reseller account. However, you should instruct the customer to enter the link in his browser but rather than create a new account, he should log in using his existing account info. It is very important that the customer does NOT just enter his information. He has to FIRST click 'Log in'. Otherwise it will not work.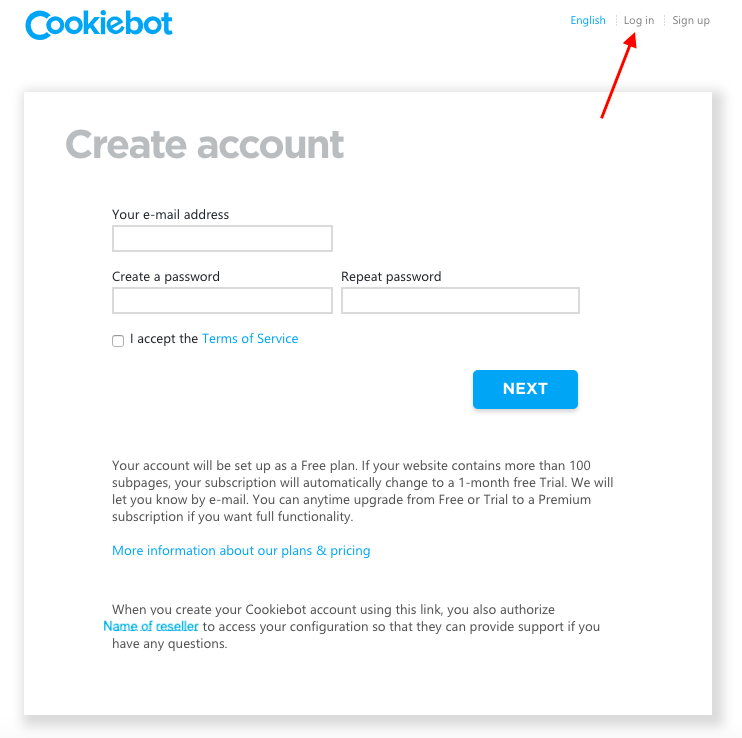 5. The customer's account should then be transferred to your reseller account as a retail model customer.
Can you please transfer the account for me?
Unfortunately, we cannot do this for you – you will have to get the customer to perform the steps above. This is because the customer needs to accept our Terms of Service (since the invoice will be coming from us and the Terms of Service form the legal basis) and the customer also needs to accept that his account will be added to your reseller account and that you will have access to his configurations.
FAQ: When the customer enters my unique reseller link and clicks 'log in', my reseller ID disappears from the URL – will it still work?
Yes, even if you do not see your reseller ID as part of the URL, it is registered in a session variable on the server and will 'follow' the user during that session.