Under the retail model you receive an administration fee of 40% for the first three years and 20% thereafter on the paid subscriptions that your customers have. As described in I have a customer with many domains who wants us to be their reseller. Can you offer a volume discount or other special pricing I can pass on to the customer? we cannot offer you any volume discounts or similar that you can pass on to your customers.
However, you can share a part of your administration fee if you would like. That would be passed on to the customer as a price reduction in the monthly invoice they receive from us.
Example: You have a large customer with 30 domains who is interested in signing up with you if offered a volume discount. You offer the customer 15% discount. That way, your own reseller administration fee will be 25% the first 3 years (40% - 15%) and it will be 5% (20% - 15%) thereafter. The customer will receive an invoice from us for the subscription price minus 15% discount. Please note that this will apply to all the domains on the customer's account because the discount is linked to the invitation to that particular customer and not to an individual domain.
Here is how to do it:
On your reseller account, go to the menu point 'Customers'. Invite a retail model customer using the button 'invite new customer' (see point 2 in Reseller introduction: How do I onboard customers under the 'retail' and the 'wholesale' model?).
On the pop-up, choose the percentage discount you would like to apply to the customer's account. The maximum percentage possible is 20%.
Enter the required information and click 'send invitation'. If the customer accepts your invitation and creates an account, the discount will automatically be applied to the account and you do not need to do anything further regarding the discount.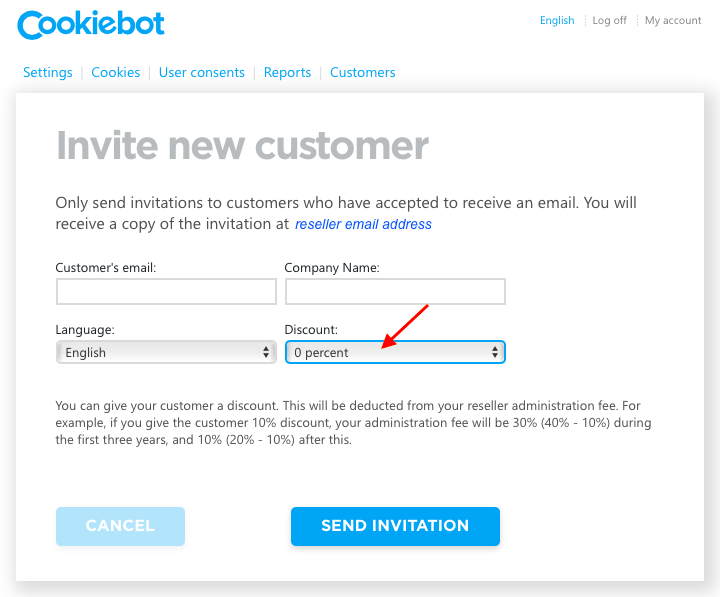 If your customer already has an account and you would like to add a discount, we can set this up for you. You can submit this request via the support form.
Can my customer get a non-profit discount?
As a reseller you may have retail customers who are non-profit organisations. These organisations sometimes qualify for a non-profit discount at the discretion of CYBOT/Cookiebot. If you would like to enquire about the possibility for one of your customers to receive a non-profit discount, please reach out to support with information about the organisation/domain(s) in question.
Since we are not able to offer the Reseller Administration Fee (RAF) on top of a non-profit discount, such a discount will be offset against your RAF.