For those customers you sign up under the retail model, you will earn 40% of the paid subscriptions the first 3 years and 20% hereafter. The retail model customers are the ones visible from the 'Customers' menu point.
Where can I see my earned reseller administration fee?
On your reseller account, choose the 'My account' menu point from the top right corner.
Under the heading 'Reseller' you will see 'Earned administration fee balance'. The amount is indicated in your local currency: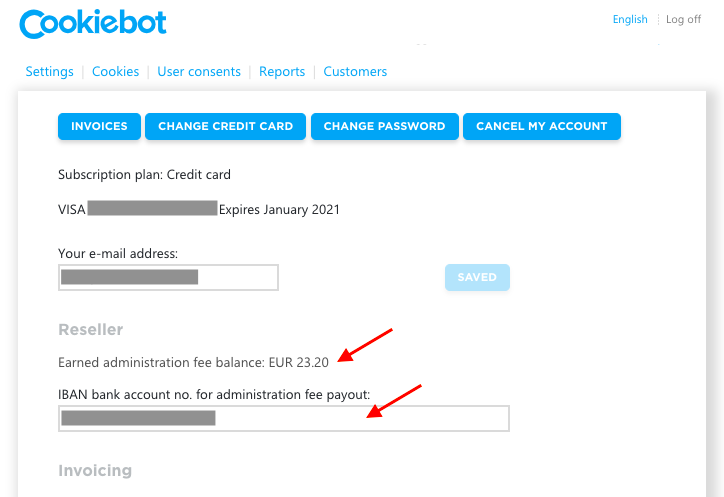 Example of a 'My account' page with the earned administration fee shown.
I have signed up a lot of customers but the earned reseller administration fee is still zero - why?
The reseller administration fee will be visible on your reseller account when the customer has made a payment.
Please note that it could take up to 60 days before this happens: If a customer opens a Cookiebot account (based on your invitation) and adds a domain, the following will happen: The domain will be scanned. If it has more than 100 subpages (and thereby does not qualify for the free plan), the domain will be placed on a free 1-month trial. The customer can make use of the full 1-month trial, then enter his payment details and a premium subscription will start. Because our billing is monthly in arrears, the first payment will be made 1 month after the payment information was added. That way, it could take up to 60 days for the administration fee to appear on your account (1 month trial period + 1 month subscription).
On the other hand, if a customer chooses to pay yearly in advance (instead of monthly in arrears), you will see 40% of the annual subscription fee on your account as soon as the payment has been made (which also in this case is 1 month after the payment info has been added and yearly payment chosen). Please see Can I pay annually instead of monthly?
When will I get my reseller administration fee?
As you can see in clause 2.1.2 of the Reseller Agreement, we will settle your account every 3 months. If you have earned less than (the equivalent of) €200, the payout will be postponed. If you have earned (the equivalent of) €200 or more, you will receive a payout to your bank account (see below).
We settle reseller accounts on the following dates: 31 March, 30 June, 30 September, 31 December. You will receive a notification from us shortly thereafter with further instructions. 
How is it paid out?
The reseller administration fee will be paid out to you using the IBAN number indicated on your reseller account (see screen shot above). Please make sure that the IBAN number is updated and correct so we can make the payment to you.
For those of our resellers who do not have an IBAN number (for example resellers in the US), we will make a bank transfer using your bank info. 
Do I need to send Cookiebot an invoice for this?
In order to accommodate all rules and regulations in the countries our resellers represent, you will need to send us an invoice in order for us to pay out your reseller administration fee. We will send you instructions after settling your account - so please do not issue an invoice until you hear from us.
Last updated: 3 October 2018