Select your interface: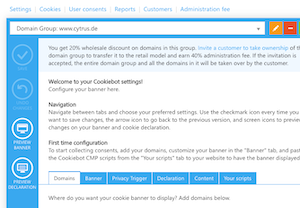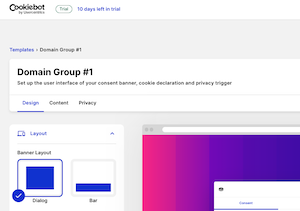 You are currently viewing instructions for the: Manager
To upgrade your Cookiebot account to a Premium subscription with full functionality, you can add your payment details to the account:
Log in to your account via the login page
Go to the menu point 'My account' (located in the top right corner)
Click "Upgrade to Premium Subscription" link or "Add payment details" button
Choose credit card or PayPal
Follow the instructions and register your payment details
When you upgrade to Premium, the scanner will immediately start a full scan of all domains added to your account and fix the price based on the number of subpages found during that scan:
If the scan finds fewer than 500 pages → Premium Small
If the scan finds fewer than 5000 pages → Premium Medium
If the scan finds more than 5000 pages → Premium Large
The subscription size will be stated in the "Cookies" tab on your account.
If you would like to get a non-binding price quote before upgrading, you can use our quote tool. Additional information can be found on our pricing page.